When You're Strange
Welcome To My Nightmare.
I'm a rocker, punk-rocker now.
Lover of rock'n'roll, punk, post-punk and some random stuff. Femenist, whovian, "singer", strange one and crazy Jetthead.
P.s. I don't really care if you think I'm strange.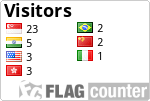 posted 4:30 pm on Tuesday, April 30, 2013 with 73 notes
tags »
#Klaus Nomi
#Live
#New Wave
#80s
theessenceofabsence reblogged this from veta-may and added:

Your daily Nomi.